Provincial House, Wayne, New Jersey
Provincial House, Wayne, New Jersey
Xaverian Missionaries – Provincial House
12 Helene Court – Wayne, NJ 07470
973-942-2975
wayne@xaverianmissionaries.org
missionmedia@xaverianmissionaries.org
---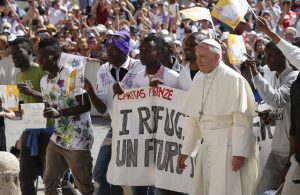 Xaverian

Missionaries US Province Statement on Islamophobia and the Executive Order on Refugees
Jesus replied, "…you shall love the Lord your God with all your heart and with all your soul and with all your mind and with all your strength.' The second is this: 'Love your neighbor as yourself.' No other commandment is greater than these" (Mark 12:30-31).
The United States Province of the Xaverian Missionaries adds its voice to the chorus of religious and secular organizations that object to the executive orders banning refugees and immigrants from Muslim countries to this country and condemns the Islamophobia gripping this nation.
Jesus himself referred to loving God and one's neighbor as the greatest of the commandments. They are the core of Christian teaching. Loving one's neighbor is also the core of the Golden Rule, which is found in every religion and culture on this planet. "So whatever you wish that others would do to you, do also to them, for this is the Law and the Prophets" (Matthew 7:12).
By banning refugees and immigrants from predominantly Muslim countries and inciting Islamophobia, America has violated the Golden Rule itself. We should be caring for those who are fleeing from conflict and strife, not turning them away. We should be welcoming those who wish become part of the mosaic that is our country, not stigmatizing them. We should be contributing to a world of justice, peace, and compassion, not to a climate of fear and hatred.
This country was founded on the principles of tolerance and acceptance. It grew and prospered due in no small part to the contributions of immigrants from around the world. Closing our doors and building walls will only result in diminishing not only our economic and commercial prosperity, but more importantly, our moral and ethical principles and aspirations. In short: America risks losing its own soul.
Xaverian Missionaries serve in twenty countries around the world. We have seen first-hand the hardship and devastation caused by sectarianism, economic deprivation, conflict, and war. In the past America seemed to be a beacon of light to peoples struggling to achieve "liberty and justice for all." Now the light is dimmed and is in danger of being extinguished.
We strongly urge the new Administration to consider the consequences of its actions. We hope that all people will once again be welcomed into this country, especially those who are in most need. We hope that those who react out of fear will educate themselves on the true teachings of Islam, and not be influenced by lies and propaganda that turn people against each other for political gains. As a religious community, we remember the words of Jesus: "I was a stranger and you welcomed me…. What you do for the least of these, you do for me" (Matthew 25:31-46).
---
Process of Canonization for a Xaverian
Bishop Angelo Frosi, Xaverian Missionary and first Xaverian ordained in the United States, is the subject of a new process of canonization in the Church. Bishop Jose Maria Chaves Dos Reis of Abaetetuba, Brazil where Bishop Frosi served as bishop from 1970 until his death in 1995 has begun the process.

We are looking for friends who may have know him as we gather written testimonials. If you knew Bishop Frosi, or of him, please contact
Fr. Mark Marangone, Provincial
---
Cardinal-designate Tobin, Newark's new leader, has always had a missionary heart
The Xaverian Missionaries congratulate Archbishop Joseph Tobin on his appointment to head the Archdiocese of Newark. Read about his appointment in NCR.
---

Berceto Foundation Annual Dinner Dance
On Sunday, October 2, 2016 from 2 pm to 7 pm the Berceto Foundation sponsored  its 54th annual dinner dance in honor of the Xaverian Missionaries at Riccardo's restaurant in Astoria, NY. See more pictures of the event here.
---

COMMON GROUND: Conference of Dialogue Between Atheists and Religious Believers
On October 8, 2015 The Xaverian Missionaries and the American Humanist Association organized a special conference of dialogue which brought together religious believers, secular humanists, and nonbelievers in conversation to gain perspective on each other's ways of seeing the world, while embracing commonalities in our human experience that unite us for social change. We called it COMMON GROUND 2015.
Through four panel sessions and networking participants joined academics and leaders from national and local organizations to discuss views on finding meaning in life, ethics and values, and how to collaborate for social action.
You can learn more about the day on the website, the Facebook page and on YouTube.
---
We believe that there is a lot of common ground between atheists, humanists, and religious believers on ethics, community, and hope.
We invite all those who wish to engage in honest, respectful conversation across the secular/religious divide. We look forward to seeing you at our next gathering.
Our next "Atheist/Theist Meetup" will be on Sunday, February 26, 2017, at 3:00 PM at our Provincial House in Wayne, New Jersey. Join us here. 
Check out and share our Common Group Social Network: CG Twitter Feed.