Provincial House, Wayne, New Jersey
Provincial House, Wayne, New Jersey
Xaverian Missionaries – Provincial House
12 Helene Court – Wayne, NJ 07470
973-942-2975
wayne@xaverianmissionaries.org
missionmedia@xaverianmissionaries.org
---
Provincial's Letter for Easter 2017
"Love Conquers Everything"
We are approaching Easter, the solemnity which best reveals God-Love and God's love shared "to the end." A love that conquers everything, even suffering, desperation, and death. "Love conquers everything," is what a Christian author said, but, before him, Jesus himself, the Lord of life, proclaimed that same truth with his own life and example.
Karen and Tom had just found out that they were expecting a baby girl. They wanted to share the news with little Mike, their three-year-old son, so that he'd get used to the idea and would welcome his little sister without much problem.
Everything was going fine. The time for delivery arrived and, suddenly, some problem showed up. Maybe a C-section would be needed… The baby was born but her life-signs seemed to take a sudden turn for the worse. The doctors took the little girl to ICU and did all they could. Yet, her conditions worsened. At some point the doctors, seeing no improvement, asked the parents to consider contacting a funeral home and make arrangements… just in case. So they did. The baby was not responding to any stimulation or treatment.
In the meantime, little Mike was insisting that he wanted to see his baby sister in the hospital so to sing a song to her, one that he liked and the only song he had learned. Karen, fearing that Mike would not be able to see his sister alive, against the hospital's policy, took her son to the ICU where his tiny sister was. The head-nurse scolded her, but to no avail. Mike went close to his sister and started to sing loud enough: "You are my sunshine, my only sunshine. You make me happy when skies are gray. You'll never know dear, how much I love you. Please don't take my sunshine away."
And he repeated it several times.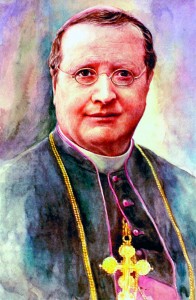 Almost immediately the baby seemed to respond as if waking up from a deep sleep. Seeing that, Karen asked Mike to keep singing to his sister. Her conditions appeared to be improving under their eyes. The head-nurse, witnessing what was taking place, was deeply moved.
In a few days the little girl was doing well enough to be allowed to go home.
"Love conquers everything" and brings, as the Risen Lord did, new life. It is a matter of following Jesus in his footsteps, dying to our selfishness, to our –at times- small and safe world so to rise, open ourselves, make "room" in our heart for the other, and reach out to every sister and brother, that is, to Jesus, present in each person we meet.
The Lord wants us to walk together towards holiness, so to make of humanity one family, God's family.
May the Crucified and Risen Lord bless each and every one of you, your loved ones, and your community, reward your generosity toward our Missions, strengthen your unity, charity, and compassion, and willingness to reach out to others, especially the most in need.
A very Blessed and holy Easter to you all!
Fr. Mark and the Xaverian Missionaries
---
Lenten Retreats: "Mercy is the name of God": the fourteen "Works of Mercy"
Fr. Michael Davitti SX, Rector of the Provincial house will be conducting Retreats during Lent at the following parishes:
Saturday,  March 18, 2017, from 9:00 a.m. until 2:00 p.m. at St. Mary Help of Christians Church, 410 Union Avenue, Paterson, NJ 07502
Saturday, April 1, 2017, from  9:30 a.m.  until 2:00 p.m., at St. Paul RC Church, 231 Second Street, Clifton, NJ 07011
---
Xaverian

Missionaries US Province Statement on Islamophobia and the Executive Order on Refugees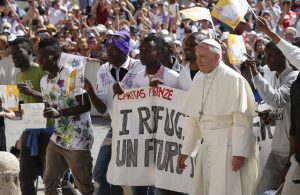 Jesus replied, "…you shall love the Lord your God with all your heart and with all your soul and with all your mind and with all your strength.' The second is this: 'Love your neighbor as yourself.' No other commandment is greater than these" (Mark 12:30-31).
The United States Province of the Xaverian Missionaries adds its voice to the chorus of religious and secular organizations that object to the executive orders banning refugees and immigrants from Muslim countries to this country and condemns the Islamophobia gripping this nation.
Jesus himself referred to loving God and one's neighbor as the greatest of the commandments. They are the core of Christian teaching. Loving one's neighbor is also the core of the Golden Rule, which is found in every religion and culture on this planet. "So whatever you wish that others would do to you, do also to them, for this is the Law and the Prophets" (Matthew 7:12).
 By banning refugees and immigrants from predominantly Muslim countries and inciting Islamophobia, America has violated the Golden Rule itself. We should be caring for those who are fleeing from conflict and strife, not turning them away. We should be welcoming those who wish become part of the mosaic that is our country, not stigmatizing them. We should be contributing to a world of justice, peace, and compassion, not to a climate of fear and hatred.
This country was founded on the principles of tolerance and acceptance. It grew and prospered due in no small part to the contributions of immigrants from around the world. Closing our doors and building walls will only result in diminishing not only our economic and commercial prosperity, but more importantly, our moral and ethical principles and aspirations. In short: America risks losing its own soul.
Xaverian Missionaries serve in twenty countries around the world. We have seen first-hand the hardship and devastation caused by sectarianism, economic deprivation, conflict, and war. In the past America seemed to be a beacon of light to peoples struggling to achieve "liberty and justice for all." Now the light is dimmed and is in danger of being extinguished.
We strongly urge the new Administration to consider the consequences of its actions. We hope that all people will once again be welcomed into this country, especially those who are in most need. We hope that those who react out of fear will educate themselves on the true teachings of Islam, and not be influenced by lies and propaganda that turn people against each other for political gains. As a religious community, we remember the words of Jesus: "I was a stranger and you welcomed me…. What you do for the least of these, you do for me" (Matthew 25:31-46).
---
Process of Canonization for a Xaverian
Bishop Angelo Frosi, Xaverian Missionary and first Xaverian ordained in the United States, is the subject of a new process of canonization in the Church. Bishop Jose Maria Chaves Dos Reis of Abaetetuba, Brazil where Bishop Frosi served as bishop from 1970 until his death in 1995 has begun the process.

We are looking for friends who may have know him as we gather written testimonials. If you knew Bishop Frosi, or of him, please contact Fr. Mark Marangone, Provincial
---
Cardinal-designate Tobin, Newark's new leader, has always had a missionary heart
The Xaverian Missionaries congratulate Archbishop Joseph Tobin on his appointment to head the Archdiocese of Newark. Read about his appointment in NCR.
---

COMMON GROUND: Conference of Dialogue Between Atheists and Religious Believers
On October 8, 2015 The Xaverian Missionaries and the American Humanist Association organized a special conference of dialogue which brought together religious believers, secular humanists, and nonbelievers in conversation to gain perspective on each other's ways of seeing the world, while embracing commonalities in our human experience that unite us for social change. We called it COMMON GROUND 2015.
Through four panel sessions and networking participants joined academics and leaders from national and local organizations to discuss views on finding meaning in life, ethics and values, and how to collaborate for social action.
You can learn more about the day on the website, the Facebook page and on YouTube.
---
We believe that there is a lot of common ground between atheists, humanists, and religious believers on ethics, community, and hope.
We invite all those who wish to engage in honest, respectful conversation across the secular/religious divide. We look forward to seeing you at our next gathering.
Our next "Atheist/Theist Meetup" will be on Sunday, April 30, 2017, at 3:00 PM at our Provincial House in Wayne, New Jersey. Join us here. 
Check out and share our Common Group Social Network: CG Twitter Feed.