Interfaith Outreach Calendar 2019
Interfaith Outreach Calendar 2019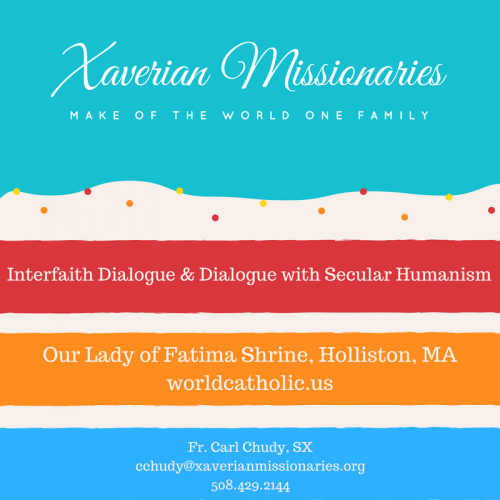 Interfaith Outreach Team: Fr. Carl Chudy |Our Lady of Fatima Shrine | Holliston, MA
In collaboration with the Metrowest Interfaith Dialogue Project and the Open Spirit Multifaith Collaborative in Framingham, Massachusetts, we would like to extend an invitation to you to our upcoming interfaith programs this year into 2019. More events will be added.
Contact Fr. Carl Chudy for more information: interfaith@xaverianmissionaries.org or call at 508.429.2144.
Shalom | Peace | Salam
JANUARY
NEW: Interfaith Book Club w/ Shaheen Aktar. The book being used is My Neighbor's Faith: Stories of Intereligious Encounter, Growth, and transformation, Jennifer Howe Peace and Gregory Mobley, eds. Sunday, January 13, 2 – 3:30 pm at the Islamic Society of Boston, Wayland

Common Ground: Secular Humanists, Religious Believers and Atheists in Dialogue. Sunday, January 27, 2019, 4:30 pm @The Open Spirit Center in Framingham
FEBRUARY
MARCH
APRIL
Temple Forest Monastery in the Thai Forest Tradition. The conversation will focus on peace, and joyful living through the radical action of change from within. Sunday, April 28th, 3 pm – 5 pm @The Open Spirit Center, Framingham. Suggested donation $15.
MAY
JUNE
Revised February 18, 2016.