Global Mission Resources for Schools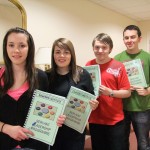 Catholic schools are soon in session and we have some handy resources as we help prepare Catholic young people for a global view of faith. The Church in the United States must do her part in fulfilling God's plan to reach the ends of the earth with Christ's love. It is vitally important that those who are involved in the teaching ministry of the Church spread the Word. The Holy Spirit has given to those responsible for the formation of the disciples of this age a special grace to enlighten the minds of others. It is our hope that these minds will join more enthusiastically in our mission to the nations. <MORE>
---
October Mission Banquets
Join the Xaverian Missionaries in Franklin WI, Holliston MA and the Berceto Foundation in NY to celebrate the Ministry of the Xaverian Missionaries in this Year of Mercy. Friends and families gather together to strengthen the bonds of our missionary family and to provide concrete way to serve the needs of the global mission of the Church in the twenty one countries we serve.
---
Assimilate or Go Home: Notes from a Failed Missionary on Rediscovering Faith
The review and sample of this new book reflects the experience of a Protestant missionary, but her experience resonates very well with many missionaries given the charge to cross cultural and faith boundaries in the name of Christ. 
Assimilate or Go Home is the story of her steep learning curve toward true solidarity and witness, chronicling her own mistakes and doubts along the way. As she cultivates friendships with her neighbors and learns to see them as persons rather than projects, Mayfield ultimately learns that the heart of ministry is incarnation. "I used to want to witness to people, to tell them the story of God in digestible pieces, to win them over to my side," she writes. "But more and more I am hearing the still small voice calling me to be the witness. To live in proximity to pain and suffering and injustice…To taste the diaspora, the longing, the suffering, the joy." <More>
Purchase your copy here. Read an excerpt from the book here.
---
Our Mission & Vision
Inspired by St. Guido Conforti and St. Francis Xavier, we, Xaverian Missionaries, serve to keep the local Church aware of, engaged with and connected to the missionary mandate of the universal Church, principally by witnessing Jesus to those who have yet to know Him.
We strive to inspire a new generation to the challenges this mission offers us today in a diverse and pluralistic world:
Intercultural and interfaith dialogue;
Advocacy for and solidarity with the poor;
Sharing the legacy of our founder, St. Guido Conforti;
Telling the stories and witness of our missionaries in the variety of ministries and countries where we serve.
---