Sharing Christ Across Cultures and Faiths
---
Xaverian Missionaries Announces the Ordination of Six New Deacons for the Global Church
SAINT MARY'S CHURCH – HOLLISTON, MASSACHUSETTS – USA
On Saturday, January 7 (Epiphany), our confrere Pietro Rossini will be ordained Deacon by Bishop Robert Reed, Auxiliary Bishop in the Archdiocese of Boston. It will take place at our local parish in the vicinity of Our Lady of Fatima Shrine, which is St. Mary's Church in Holliston.
SAINT JOSEPH CATHEDRAL – BAFOUSSAM – CAMEROON:
On Saturday, November 26th, 2022, at 9:00 a.m., our confreres Yuventus Yonavan Cayono and Innocent Shamamba Ciza will be ordained deacons in St Joseph Cathedral, Bafoussam, Cameroon, through the laying on of hands and the prayer of ordination of Bishop Paul Lontsié-Keuné, Bishop of Bafoussam.
CHRIST THE KING PARISH, MEXICO CITY, MEXICO:
On Saturday, December 3rd, 2022, at 12:00 a.m., our confrere Justin Bashagaluke Mihigo will be ordained deacon in Christ the King Parish Church (Colonia Portales, Mexico City), through the laying on of hands and the prayer of the ordination of Bishop Carlos Enrique Samaniego López, Episcopal Vicar for Consecrated Life in the Archdiocese of Mexico City.
ASSUMPTION OF BLESSED VIRGIN MARY PARISH, BUTTRIO, UDINE, ITALY:
On Thursday, December 8th, 2022, at 10:30 a.m., our confreres Kampianus Ordin Jemanu and Johanes Morgany will be ordained deacons in Assumption of Blessed Virgin Mary Parish Church (Buttrio, Udine), through the laying on of hands and the prayer of the ordination of Bishop Andrea Bruno Mazzocato, Archbishop of Udine Diocese.
---
Contact our office for more information at holliston@xaverianmissionaries.org or 508.429.2144
---
Download the study guide for the first week here
---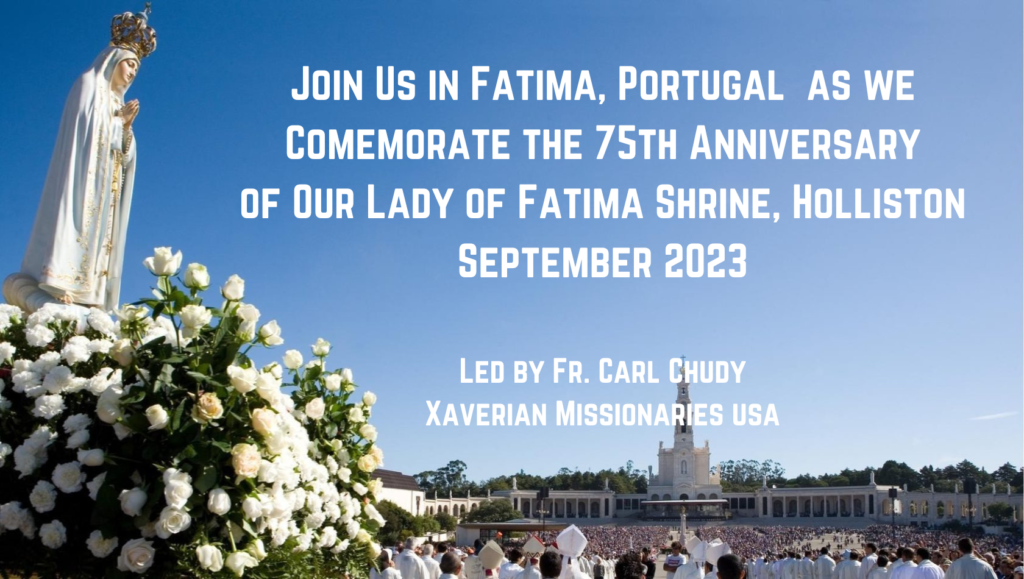 September 2022 we celebrated the 75th anniversary of the presence of the Xaverian Missionaries in the United States. September 2023 we will celebrate the 75th anniversary of Our Lady of Fatima Shrine with an exciting opportunity to join our pilgrimage to Fatima, Portugal. If you are interested in more information contact us at holliston@xaverianmissionaries.org, or at 508.429.2144. Reserve your place today!
---
Mission Blog: Interfaith Dialogue with Buddhists and our Seminarians in Indonesia
"Buddhism and its relevance in the modern world" was the topic of the interreligious dialogue activity held by the Xaverian Philosophy Community of Jakarta on October 29, 2022. Since the COVID-19 pandemic, interreligious dialogue has been carried out through zoom meetings. For the first time after the pandemic, we were able to carry out this activity in our presence, at our home.
The difference is felt when there is an encounter in interreligious dialogue. The guess was Mrs. Ferlina Sugata, a Buddhist teacher from Maranatha University, Bandung. She also has expertise in the field of general architecture and the architecture of Buddhist temples or stupas. Furthermore, she has given several seminars and got many awards.
---
---