Global Mission Resources for Schools
Global Mission Resources for Schools
Lenten Resources for Kids
Lenten Activities for Children from Loyola Press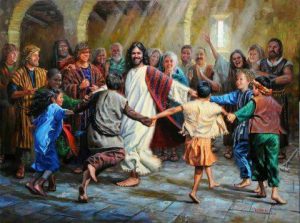 The Religion Teacher's Lent Activities
Children's Stations of the Cross
---
Fostering the Missionary Spirit through Education
As in the past, the Holy Spirit is calling many Catholics to be missionaries across the globe. There is as great a need as ever for missionaries: more than one thousand dioceses and eparchies in the world are still considered mission territories. There are billions of people who have yet to encounter Christ face-to-face through his missionaries.
The Church in the United States must do her part in fulfilling God's plan to reach the ends of the earth with Christ's love. It is vitally important that those who are involved in the teaching ministry of the Church spread the Word. There are many ways to accomplish this: forming a network of concern and prayer for missions; inviting others to consider becoming missionaries; encouraging others to support missions with financial contributions. The Holy Spirit has given to those responsible for the formation of the disciples of this age a special grace to enlighten the minds of others. It is our hope that these minds will join more enthusiastically in our mission to the nations.
Teaching The Spirit Of Mission Ad Gentes: Continuing Pentecost Today, A Statement of the United States Conference of Catholic Bishops June 2005
---
Catholics & Cultures
The cultural diversity of today's Catholics creates a complex melding of traditions; devotional expression that ranges from shrines in the home, to colorful street processions, to charismatic services drawing hundreds of thousands of worshipers each week; and societal circumstances such as unemployment and violence that influence how Catholics prioritize values.
Catholics & Cultures is the first program in the nation to prepare students for leadership and participation in a Church that is global in scope and yet remarkably shaped by local culture. It explores the myriad ways that ordinary lay Catholics around the world experience their faith in the cultures where they live. Go to their website for Educator Resources.
www.catholicsandcultures.org/educator-resources
---
Documents of the United States Catholic Bishops & Propagation of the Faith
Resources for the Environment
Resources from Catholic Relief Services
Education for Justice Center Resources
New Interfaith Resource Library for College Campuses
Interfaith Youth Core (IFYC) provides content – including downloadable PDFs, videos, webinars, and podcasts – to support your interfaith work. These draw from our work on campus, featuring insights from institutions around the country. Browse their library to find useful resources.
Teacher and Classroom Resources
Global Mission Classroom Sources from Scarboro Missions