Religious, Secular & Spiritual Dialogue
Modeling the Future of Religion in America
If recent trends in religious switching continue, Christians could make up less than half of the U.S. population within a few decades. Download the full report here
Since the 1990s, large numbers of Americans have left Christianity to join the growing ranks of U.S. adults who describe their religious identity as atheist, agnostic, or "nothing in particular." This accelerating trend is reshaping the U.S. religious landscape, leading many people to wonder what the future of religion in America might look like.
What if Christians keep leaving religion at the same rate observed in recent years? What if the pace of religious switching continues to accelerate? What if switching were to stop, but other demographic trends – such as migration, births, and deaths – were to continue at current rates? To help answer such questions, Pew Research Center has modeled several hypothetical scenarios describing how the U.S. religious landscape might change over the next half-century.
WHAT ARE YOUR THOUGHTS? LEAVE THEM IN THE COMMENT SECTION AND SHARE.
Listening to Those Who Left the Catholic Church:
Bringing Voices of the Disaffiliated to the Synod 2021-2023 of the Church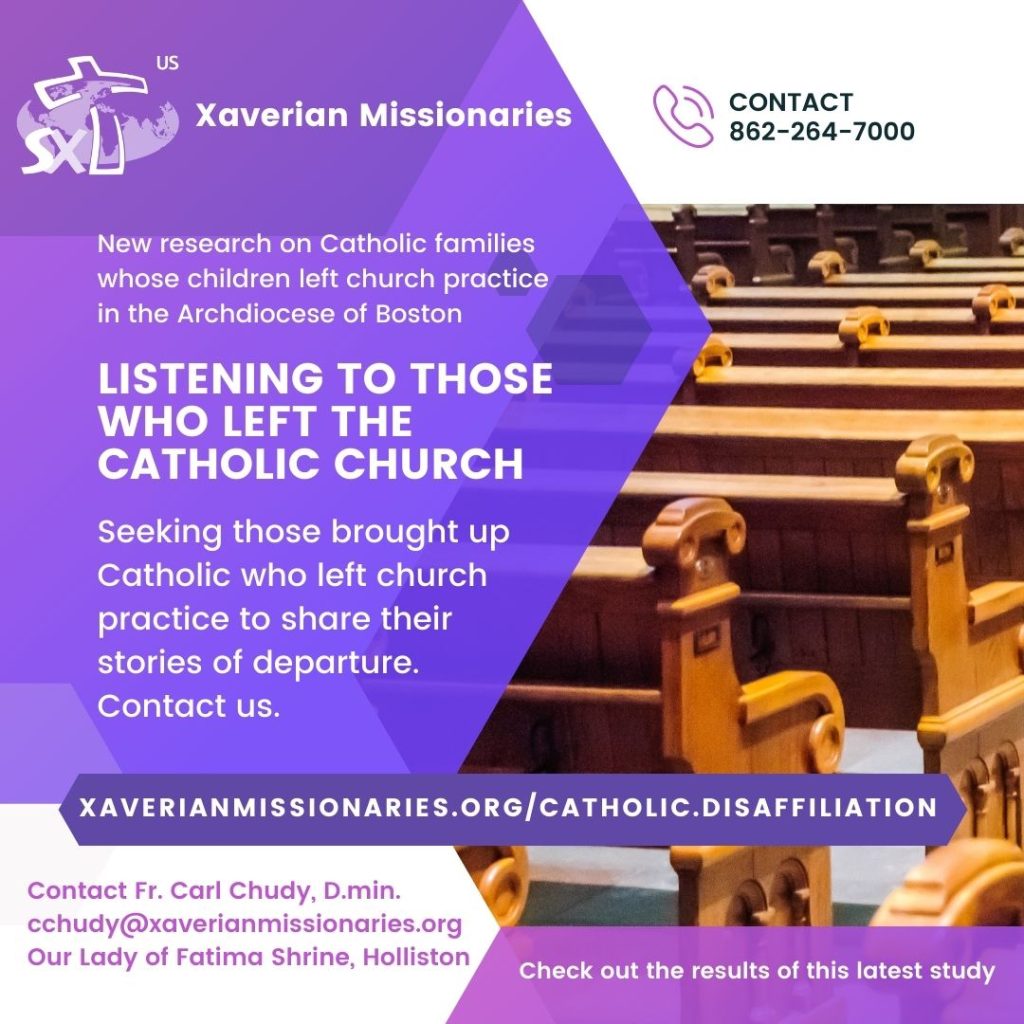 Fr. Carl Chudy recently completed research on Catholic disaffiliation entitled: Postsecular Catholicism: Toward a New Understanding and Pastoral Praxis in Catholic Families with Disaffiliated Children in the Archdiocese of Boston.
We have created a new website to share this research with you, broken down into seven different parts. Along with this is information on other studies looking at why people leave the church and a guide from the US Catholic Bishops.
We hope to use this as an opportunity to invite others who have left the practice of faith in the church to share their stories of departure and to offer them in the larger dialogue of the church on the occasion of the listening sessions of the Synod of the Church which Pope Francis called October 2021.
---
The Church in Dialogue with a Secular Age
Prof. Tomas Halík (Charles University, Prag) speaks on «Discerning the Signs of the Times» during the International Conference «Renewing the Church in a Secular Age» held at the Pontifical Gregorian University in Rome (March 5, 2015).
---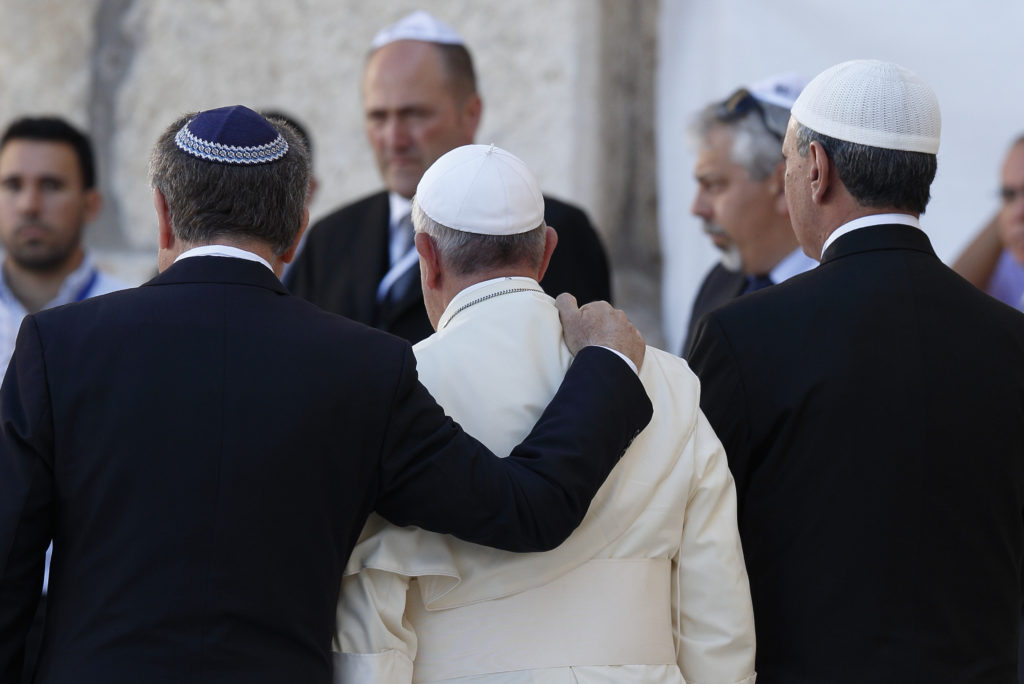 Catholics and our
Secular Brothers and Sisters
The concern of the Church to understand them more deeply secular culture and the dialogue we must have is rooted in the spirit of Vatican II.
Pope Paul VI, who closed Vatican II and launched the Church into a new future, wrote in his first encyclical in 1964, Ecclesium Suam: "God Himself took the initiative in the dialogue of salvation. "He first loved us." We, therefore, must be the first to ask for a dialogue with others (men), without waiting to be summoned to it by others." (72) Read too 70-85.

The Pope established the Secretariat for Non-Believers in 1965 as a focal point for the dialogue with people of goodwill who profess no specific religion or religious belief.
The first guideline of religious/secular dialogue was released in 1968 entitled, DIALOGUE WITH NON-BELIEVERS through Cardinal Francis Konig, President of the Secretariat.

St. Pope John Paul II changed the Secretariat to the Pontifical Council of Culture on 20 May 1982 with the aim of establishing dialogue between the Church and the cultures of our time. The new opportunities of mission lie in our cultural and religious diversity.
Pope Benedict XVI instituted, through this Council, the Courtyard of the Gentiles to create international conferences for interaction "with those to whom religion is something foreign, to whom God is unknown.
Pope Francis, in his first encyclical, Joy of the Gospel, says: "As believers, we also feel close to those who do not consider themselves part of any religious tradition, …We consider them as precious allies in the commitment to defending human dignity, in building peaceful coexistence between peoples and in protecting creation." (257)
Sacred Secular Dialogue on Facebook and Twitter
Including the Non-religious in Interfaith Dialogue
---
Common Ground Project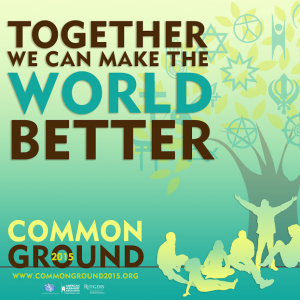 Encounter and Dialogue Among the Religious and Nonreligious
The Xaverian Missionaries began a project of dialogue and engagement with atheists, secular humanists and the unaffiliated through a project we called COMMON GROUND in 2012, in partnership with our brothers the United Kingdom. We encourage you to explore these links and join in on the conversation as we learn to enlarge our Catholic embrace.
The first reason is to explore new opportunities of the 21st century to live out the "mission ad gentes" of the Church that binds us as Catholics to all those who believe differently than us. This relationship is an important place where we share the love of Christ.
Second, in the western world, the gulf felt between people of faith and secular culture is a not so new periphery of the Church that demands encounter, study, and the application of the Gospel in the spirit of dialogue, love, and bridge building.
Secular culture applies to persons who are atheists, secular humanists, the unaffiliated (those who left religion behind), seekers, agnostics and others who do not believe in God or hold to any particular religious institution.
---
Common Ground: Conversations between Atheists, Religious Believers & Secular Humanists
A) 2013 Conference of Religious and Non-Religious: Coatbridge, Scotland
---
B) 2015 Conference of Religious and Non-Religious @ Rutgers University
In 2015, together with the American Humanist Association and Rutgers University in New Brunswick, New Jersey, we organized another dialogue conference entitled COMMON GROUND 2015, bringing together more than 120 religious and non-religious students, leaders, scholars, and pastoral agents to dialogue around meaning in life, ethics and values, and secular and religious communities in action toward charity and justice.
---
---
D) Common Ground Blogging Network
We are reflecting and writing on these ongoing experiences through two blogs, our own, Catholic Global Mission, and a non-religious blog on patheos.com called Secular Spectrum, probably the largest online interfaith conversation. More will be added over time, check back often.
Catholic Global Mission (Official blog of the Xaverian Missionaries USA)
Secular Spectrum (Non-religious blog featured in one of the largest online interfaith conversations, patheos.com)
---
E) Essays & Articles from the Xaverian Missionaries
---
F) Resources
In our study, we share with you books that are part of a larger community of study and dialogue. Some are academic, others more easily accessible. They are a good place to start if you want to explore this unique dialogue.
Spiritual but not Religious
Religious & Secular Dialogue
Articles and Online Sources
Studies in Secular Culture
Secular Ethics
Organizational Resources