Fatima Shrine, Holliston, Massachusetts
Fatima Shrine, Holliston, Massachusetts
Xaverian Mission Center – Our Lady of Fatima Shrine
Fatima Days Begins Anew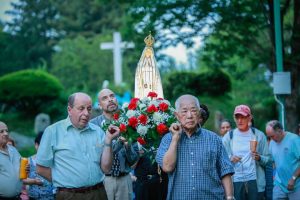 Fatima Days this year celebrates the wide embrace of the Blessed Mother in many different cultures and times. We began in May, and on the 13th of each month until October, we will be "Honoring Mary through the Cultures and Continents of the World."  We will be celebrating Mary at St. Nicolas (Argentina) in June; at Laus (France) in July; at Kibeho (Rwanda-Africa) in August and at Akita (Japan) in September. We will conclude in October with a celebration presided by the Regional Bishop, Bishop Robert Reed. Each evening begins with songs of praise at 6:30 pm. Mass is at 7:00 pm, followed by the candlelight rosary outdoors with the recitation of the Hail Mary in difference languages. The evening concludes with fellowship in the Shrine Hall.
---
Sending Fatima Shrine's Love with Father Joe!
Fatima Shrine gave a standing ovation and bid a fond farewell to Father Joe on February 3.
Fr. Joe Matteucig, superior of the Xaverian Missionary community in Holliston, Massachusetts, as well Director of the Shrine, is being transferred February 4, 2018, to our community in Franklin, Wisconsin. Fr. Joe, who celebrated 34 years as a missionary priest has worked in the United States in vocation ministry, thirteen years in Taiwan, and the last 12 years at our community in Holliston. Fr. Joe also serves on the Presbyterial Council of the Archdiocese of Boston. We are grateful for his witness and service as he looks forward to new challenges in the Midwest.
---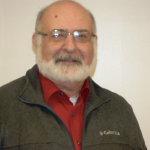 Fr. Rocco Puopolo, presently the vocation director of the US Province and of the Global Mission Youth Office of the Shrine, was assigned as superior of the Holliston Community and Director of the Shrine. Fr. Rocco worked for many years in Sierra Leone, West Africa where he was wounded during the civil war there. He has worked in many capacities in the US Province as superiors of both the communities of Franklin and Chicago, as well as Director of the Africa Faith and Justice Network in Washington DC. We are grateful for Fr. Rocco's continued witness and long experience as he assumes new responsibilities in Holliston.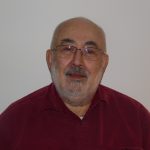 Fr. Adolph Menendez, a native New Yorker who assists with mission awareness and ministry in Holliston, celebrated his 50th anniversary as a priest on January 6, 2018. He was ordained 1968 in Franklin, Wisconsin. Fr. Adolph worked for a number of years as vocation director of the province. He went to Japan after ordination where he spent nine years. Upon his return to the US, he assisted in the Provincial Treasurer's Office in Wayne and in 1981 was sent to Mexico. He spent 22 years in Mexico in various capacities. In 2004 he returned again to the US where he became involved in campus ministry at Eastern Illinois University and the University of Illinois. Eventually, he was sent to Holliston to as part of the vocation team. We are grateful for the fruitful years of his missionary life and to the service he continues to so generously offer.
---
"Enchanted Evening"… Holliston's Mission Banquet
---

MEETUP GROUP:

 Conversations Between Atheists, Religious Believers, and Humanists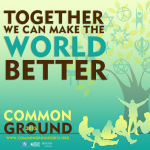 A Conversation among atheists, religious believers, and humanists in search of common ground on ethics, community, and hope. See more information and register here.
Sunday, June 24, 2018, at 4:30 p.m.
---
MASS TIMES
Sunday

Morning:

11:00 am

(Shrine Church)

Monday 

– 

Saturday

Morning:

7:30 am

(House Chapel)
Tuesday Evening:

7:00 pm Mass for Vocations

(House Chapel)

Wednesday

Evening:

7:30 pm

(Shrine Church)

Saturday

Morning:

10:00 am

 Votive Mass to Our Lady (Shrine Church)
---
OTHER RELIGIOUS EVENTS:
Thursday

:

7:00 p.m.

: Holy Hour and Adoration (House Chapel)

Sunday

:

3:00 p.m.

: Mission Rosary and Benediction
SACRAMENT OF RECONCILIATION: 

Saturday

:

3:00 p.m. – 5:00 p.m.
---
Our Lady of Fatima Gift Shop:
11:00 am – 6:00 pm
(508) 429-8172
101 Summer Street
Holliston, MA 01746
(508) 429-2144
holliston@xaverianmissionaries.org