Interfaith Dialogue
Interfaith Dialogue
Strangers No More
Dialogue Interreligieux Monastique / Monastic Interreligious Dialogue (DIMMID) is an international monastic organization that promotes and supports dialogue, especially dialogue at the level of religious experience and practice, between Christian monastic men and women and followers of other religions.
DIMMID is a commission of the Benedictine Confederation with formal links to both branches of the Cistercian order. It acts in liaison with the Holy See's Pontifical Council for Interreligious Dialogue and welcomes collaboration with other organizations that foster interreligious dialogue. DIMMID is civilly incorporated in the state of Minnesota (USA) as a nonprofit, tax-exempt institution operating exclusively for charitable, educational, and religious purposes.
While the natural dialogue partners of Christian monastics are monastics of other religious traditions, DIMMID also engages in spiritual dialogue with adherents of religions that do not have an institutionalized form of monasticism, for example—and in particular—with Muslims.
---
Things Not Seen: Digging for God's Water: Jordan Denari Duffner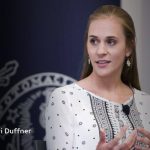 On the radio program, Things Not Seen: Conversations about Faith and Culture, Jordan Denari Duffner found a rejuvenated connection to her Christian faith in an unlikely place: praying alongside her Muslim friends. We discuss her new book, Finding Jesus Among Muslims: How Loving Islam Makes Me a Better Catholic from Liturgical Press.
Jordan Denari Duffner is a leading Catholic voice on Muslim-Christian relations and an advocate for interreligious dialogue. Currently pursuing a PhD in Theological and Religious Studies at Georgetown University, she is also an associate at the Bridge Initiative, where she previously worked as a research fellow studying anti-Muslim prejudice. Her writing on Islam and Catholicism has appeared in TIME, The Washington Post, America, and numerous other outlets. A former Fulbright researcher in Amman, Jordan, she lives in the Washington, DC, area with her husband, Chris.
---
Interfaith Dialogue Series at the Holliston Public Library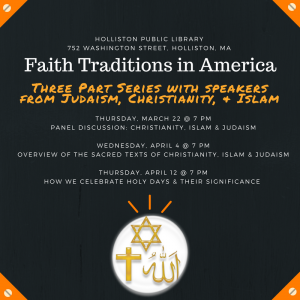 In March and April 2018, the Islamic Society of Boston, along with the Christian and Jewish communities of Holliston, came together for three delightful evenings to share in a panel presentation to present three themes in three events: Introduction to Islam, Christianity, and Judaism; Overview of the Sacred Texts of Islam, Christianity and Judaism; and How We Celebrate Holy Days.
The panel presenters were: Shaheen Akhtar of the Islamic Society of Boston, Rev. Bonnie Steinroeder of the First Congregational Church, Rev. Mark Peterson of Christ the King Lutheran Church, Rabbi Moshe Givental of Beth Torah Temple, Rabbi Jennifer Rudin of Simcha Services, and Fr. Carl Chudy of the Xaverian Missionaries at Our Lady of Fatima Shrine. Enjoy the episodes.
---
Xaverian Missionaries in Interfaith Dialogue
NEW

: Fr. Carl Chudy has these essays & presentation in interfaith dialogue with our Muslim brothers and sisters.
Fr. Joe Matteucig SX and Fr. Francis Signorelli SX participated in an Interfaith Discussion at the Islamic Center of Boston in Wayland MA. "On a beautiful fall afternoon, over 100 attendees from all walks of life and representing many faiths sat together to talk about interfaith and bringing more peace to our community, nation, and world." Discover more. 
Click on the link for a presentation of Fr. Michael Davitti's on Buddhism
---
Being Catholic with Other Faiths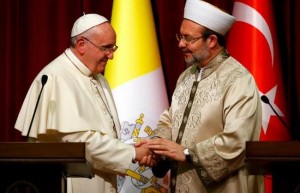 Although Vatican II opened a new door for the Catholic Church to our relationship with other faiths, it did not yet go as far as to say that interreligious dialogue is part of the evangelizing mission of the church. This came through the Pontificate of John Paul II through three subsequent documents: Dialogue and Mission (1984), the mission encyclical Mission of the Redeemer (1990), and Dialogue and Proclamation (1991). These teachings reflect the growing awareness of the centrality of interfaith dialogue in the very mission of the church. For Pope John Paul II, dialogue is fundamental for the Church, based on the very life of the Triune God, as well as on respect and love for every human person: "As far as the local churches are concerned, they must commit themselves in this direction, helping all the faithful to respect and to esteem the values, traditions, and convictions of other believers."
This dialogue is not a mere discussion about each other's beliefs. For the church there are several ways this dialogue can play out.
The first is the dialogue of life where believers of different religions bear witness before each other in daily life to their own human and spiritual values, and help each other to live according to those values in order to build a more just and fraternal society.
The second is the dialogue of works and action where collaboration with other faiths is opportune in the social, economic and political to build a more humane society.
The third is the dialogue of theological exchange and often involves specialists and leaders in different faith traditions in search for ultimate truth.
Finally the dialogue of religious experience is an opportunity to share prayer and religious experiences in our common search for the Absolute.
---
Ecumenism: 500th Commemoration of the Reformation
I think then that the one goal of all who are really and truly serving the Lord ought to be to bring back to union the churches which have at different times and in diverse manners divided from one another.
St. Basil the Great (330–379), "Epistle CXIV"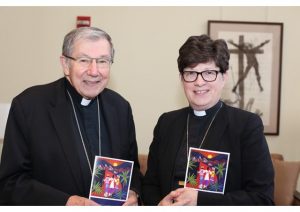 As Catholics and Lutherans, we have not yet achieved the goal of unity that is God's gift in Christ and to which St. Basil calls us. Yet we have come a long distance from the disunity, suspicions and even hostilities that characterized our relationships for generations. In the year 2017 we celebrate more than 50 years of earnest dialogue and 500 years of the commemoration of the reformation, as an opportunity to move more deeply to communion in our common mission to proclaim Christ with the world.  Below are a number of resources to explore, to share in groups in parishes, classrooms, and in ecumenical opportunities everywhere.
The United States Catholic Bishops: Ecumenical and Interreligious Affairs
Canadian Conference of Catholic Bishops
–Together in Christ – Cover letter by the two Co-Chairs (introducing the materials)
–Together in Christ – Promotion poster
–Together in Christ – Leader's Guide (instructions on how to organize the discussion sessions)
–Together in Christ – Participant's Guide
–Together in Christ – Video script (written text of the audio visual material)
–Together in Christ – Homily Resources
Link to the Common Prayer by the Pontifical Council and the Lutheran World Federation (PDF)
Ecumenical Sources on Christian Unity by BostonUnite
---
Teaching of the Catholic Church on Interfaith Dialogue
US Catholic Bishops on Global Mission and Interfaith Dialogue
Interfaith Organizations to Connect With
Resources on Islam
Interfaith Journals
Essays on Dialogue by Xaverian Missionaries
Special Events