Provincial House, Wayne, New Jersey
Provincial House, Wayne, New Jersey
Xaverian Missionaries – Provincial House
12 Helene Court – Wayne, NJ 07470
973-942-2975
wayne@xaverianmissionaries.org
missionmedia@xaverianmissionaries.org
---
Message from Fr. Mark
The late Cardinal Francis Xavier Van Thuan writes:
"When I was arrested, I had to leave immediately with empty hands. The faithful…sent me a small bottle of wine for Mass with a label that read, 'medicine for stomach-aches.' They also sent me some hosts, which they hid in a flashlight for protection against the humidity. The pólice asked me, 'You have stomach-aches?' 'Yes' 'Here is some medicine for you.' I will never be able to express my great joy! Every day with three drops of wine and a drop of water in the palm of my hand, I would celebrate Mass. This was my altar, and this was my cathedral! It was true medicine for soul and body, 'Medicine of immortality, remedy so as not to die but to have life always in Jesus' as St. Ignatius of Antioch says. Each time I celebrated Mass, I had the opportunity to extend my hands and nail myself to the cross with Jesus, to drink with him the bitter chalice. Each day in reciting the words of consecration, I confirmed with all my heart and soul a new pact, an eternal pact between Jesus and me through his blood mixed with mine. Those were the most beautiful Masses of my life!"
What a difference with the latest information we hear from newspapers and media these days! Yet, we cannot forget the many thousands of priests, religious, and consecrated people throughout the world who will never make it to the papers… because we don't make news, but we are good news!
Even though, as disciples of the Risen Lord, we are meant not to cause pain, suffering, scandal and death to anyone, something negative may happen along the way… when we allow the human element to take over while losing sight of the fact that we are meant to be the presence of the Risen and Living Lord in our world today, because for a number of people we may be the only gospel they will be able to read…
We have a long way to go… along the journey of conversion, humility, service, love, and unity… The Spirit of the Risen Lord is still present and at work in hearts that are open to grace and conversion.
~ Fr. Mark Marangone SX, US Provincial Superior
---
Scripture Reflection At Our Lady of Consolation, Wayne, NJ
Tuesdays: October 2 through November 27, 2018
Fr. Michael Davitti SX will celebrate Mass at 8:00 a.m. in the Ministry Center. Mass will be followed by a Scripture Reflection from 8:30 – 9:30 a.m. All are welcome to attend! For additional information please visit www.olcparish.org
---
General Direction Counselors Visit the US
Frs. Eugenio Pulcini and Fabien Kalehezo, SX, members of our General Council in Rome were with us in the USA from June 4 through the 17, 2018.  It's the first time they have come this way since their election (for Fr. Fabien, from the Democratic Republic of Congo, who served in the Philippines) and re-election (for Fr. Eugenio, from Italy, who served in Mexico and the Philippines) in August 2017 during our XVII General Chapter (Assembly).
They spent a few days in each of our Communities where they met with confreres and staff members and joined our Provincial Council Meeting in Franklin and even found some time for sightseeing. We appreciate the time they took with us and their interest in our activities, outreach and ministries.  See a slide show of their visit here.
It truly was a "grace-filled" stay for all of us!
~ Fr. Mark Marangone SX
---
Easter 2018 Message from Fr. Mark
The gospel reading for this Easter Vigil closes with the words addressed to the women who had gone to the tomb searching for Jesus' body and didn't find it. "He is going before you in Galilee; there you will see him, as he told you." (Mk 16:7)
There is, however, one more verse after that (16:8), which is not included, and reads: "They fled from the tomb, seized with trembling and bewilderment. They said nothing to anyone, for they were afraid."
If everything had ended there, we wouldn't be celebrating Easter as the most important day of humanity's history. What happened is that the Spirit of the Risen Lord, the Holy Spirit, freed the disciples (men and women) of the Risen Lord from all fear and transformed them in daring apostles, missionaries, who continue to proclaim to this very day Christ Jesus as the Son of God, the one who gives meaning to their existence, ready even to lose their life in order to follow him all the way, to make him known, and loved.
In the course of history, the world has seen many changes: some marvelous, such as so many inventions which have contributed to change our way of doing things and of living; others, not so great, which could destroy an entire nation in just a matter of seconds. There is no doubt that the resurrection event has been an extremely important moment in Jesus' life and the life of his disciples, two thousand years ago. Yet it is extremely important also for you and me and all of us, today.
Jesus not only rose from the dead and revealed to us how death did not have the last word on his short existence in our midst. The fact is that it won't have the last word on ours either. God wants us, too, to rise with Jesus to a totally new life so to remain with him forever. "I came so that they might have life and have it more abundantly." (John 10:10) These words of promise fill us with hope and peace especially when we see a number of our communities shrinking in number, when we 'lose' loved ones and friends who move on to eternal life…
We must not forget the last words of the angel on this Easter Vigil: "He is going before you…", that is, 'The Risen One walks ahead of you, leading the way: do not be afraid! He won't abandon you! He will always show you the way to true Life… Just follow him… Let him guide you!' Jesus came to show us concretely that God has always loved us and loves us immensely, all the way to the cross.
One of the best responses to his love is "to make of the world one family." This was the ideal of Saint Guido Maria Conforti (Founder of the Xaverian Missionaries). This is also the dream of our God, the God of Jesus Christ. May it be our own as well. Let us do well all our part by proclaiming the Risen Lord with our life and our good
example.

With deep gratitude from all of us, Xaverian Missionaries in the USA and the world over, for your daily prayers, your witness of life, your faithful and generous love for our Missions over the years, we wish a HAPPY,,, VERY BLESSED,,, AND GRACE-FILLED EASTER TO YOU AND YOUR LOVED ONES!!! MAY the LORD reward you many times over.
Fr. Mark and The Xaverian Missionaries
---
Roman Holiday…
Fr. Frank Grappoli SX returned from Italy with an "Easter Basket" of images and memories. Enjoy!
These two photos are of a young Fr. Frank in the 1970's.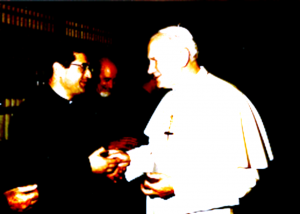 ---
Process of Canonization for a Xaverian Missionary
Bishop Angelo Frosi, Xaverian Missionary and first Xaverian ordained in the United States, is the subject of a new process of canonization in the Church. Bishop Jose Maria Chaves Dos Reis of Abaetetuba, Brazil where Bishop Frosi served as bishop from 1970 until his death in 1995 has begun the process.
The solemn opening of the Beatification and Canonization process of Bishop Angelo Frosi took place on December 8, 2017.  The ceremony took place in the Cathedral of the Diocese of Abaetetuba which is promoting the Cause, whilst the Postulator is the diocesan priest Francesco Correa Moraes, helped by Fr. Alfiero Ceresoli SX
We are looking for friends who may have known him as we gather written testimonials. If you knew Bishop Frosi, or of him, please contact Fr. Mark Marangone, Provincial
---
Berceto Banquet
Fr. Mark Marangone SX attended the 55th and sadly final Bercetese celebration of its ties to the Xaverian Missionaries and St. Guido M. Conforti. See more pictures at www.bergotto. com. The Xaverian Missionaries express their never-ending gratitude to the Berceto Foundation for over half a century of service!
---
Xaverian

Missionaries US Province Statement on Islamophobia and the Executive Order on Refugees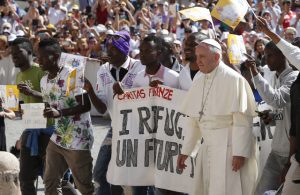 Jesus replied, "…you shall love the Lord your God with all your heart and with all your soul and with all your mind and with all your strength.' The second is this: 'Love your neighbor as yourself.' No other commandment is greater than these" (Mark 12:30-31).
The United States Province of the Xaverian Missionaries adds its voice to the chorus of religious and secular organizations that object to the executive orders banning refugees and immigrants from Muslim countries to this country and condemns the Islamophobia gripping this nation.
Jesus himself referred to loving God and one's neighbor as the greatest of the commandments. They are the core of Christian teaching. Loving one's neighbor is also the core of the Golden Rule, which is found in every religion and culture on this planet. "So whatever you wish that others would do to you, do also to them, for this is the Law and the Prophets" (Matthew 7:12).
 By banning refugees and immigrants from predominantly Muslim countries and inciting Islamophobia, America has violated the Golden Rule itself. We should be caring for those who are fleeing from conflict and strife, not turning them away. We should be welcoming those who wish become part of the mosaic that is our country, not stigmatizing them. We should be contributing to a world of justice, peace, and compassion, not to a climate of fear and hatred.
This country was founded on the principles of tolerance and acceptance. It grew and prospered due in no small part to the contributions of immigrants from around the world. Closing our doors and building walls will only result in diminishing not only our economic and commercial prosperity, but more importantly, our moral and ethical principles and aspirations. In short: America risks losing its own soul.
Xaverian Missionaries serve in twenty countries around the world. We have seen first-hand the hardship and devastation caused by sectarianism, economic deprivation, conflict, and war. In the past America seemed to be a beacon of light to peoples struggling to achieve "liberty and justice for all." Now the light is dimmed and is in danger of being extinguished.
We strongly urge the new Administration to consider the consequences of its actions. We hope that all people will once again be welcomed into this country, especially those who are in most need. We hope that those who react out of fear will educate themselves on the true teachings of Islam, and not be influenced by lies and propaganda that turn people against each other for political gains. As a religious community, we remember the words of Jesus: "I was a stranger and you welcomed me…. What you do for the least of these, you do for me" (Matthew 25:31-46).
Cardinal-designate Tobin, Newark's new leader, has always had a missionary heart
The Xaverian Missionaries congratulate Archbishop Joseph Tobin on his appointment to head the Archdiocese of Newark. Read about his appointment in NCR.
---
 
COMMON GROUND: Conference of Dialogue Between Atheists and Religious Believers
The Xaverian Missionaries and the American Humanist Association organized a special conference of dialogue which brought together religious believers, secular humanists, and nonbelievers in conversation to gain perspective on each other's ways of seeing the world while embracing commonalities in our human experience that unite us for social change. We called it COMMON GROUND 2015.
Through four panel sessions and networking participants joined academics and leaders from national and local organizations to discuss views on finding meaning in life, ethics and values, and how to collaborate for social action.
You can learn more about the day on the website, the Facebook page and on YouTube.
---
We believe that there is a lot of common ground between atheists, humanists, and religious believers on ethics, community, and hope.
We invite all those who wish to engage in honest, respectful conversation across the secular/religious divide. We look forward to seeing you at our next gathering.
Our next "Atheist/Theist Meetup" will be on Sunday, September 30, 2018, at 3:00 p.m. at 9 Colonial Terrace Pompton Plains NJ. Join us here. 
Check out and share our Common Group Social Networks: Facebook page and  CG Twitter Feed