Provincial House, Wayne, New Jersey
Provincial House, Wayne, New Jersey
Xaverian Missionaries – Provincial House
12 Helene Court – Wayne, NJ 07470
973-942-2975
Fr. Mark Marangone SX, Provincial Superior
Fr. Michael Davitti SX, Rector
The Provincial Administration: wayne@xaverianmissionaries.org
The Mission Media Office: missionmedia@xaverianmissionaries.org
---
Lunch with Bishop Sweeney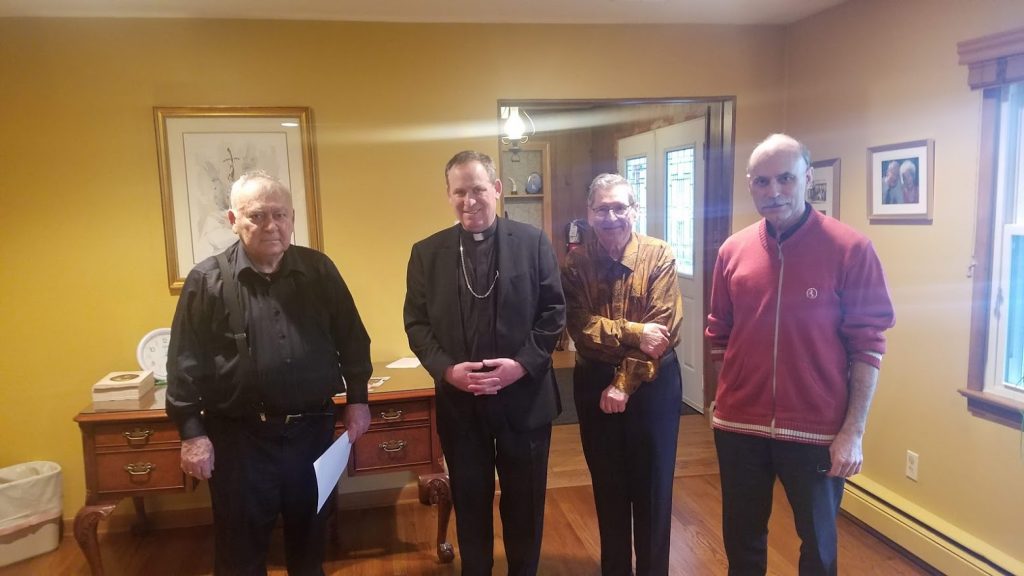 The Provincial House community enjoyed lunch with Bishop Kevin Sweeney of the Diocese of Paterson NJ on November 13. (From left to right, Fr. Michael Davitti SX, Bishop Sweeney, Fr. Frank Grappoli SX and Fr. Mark Marangone SX)
---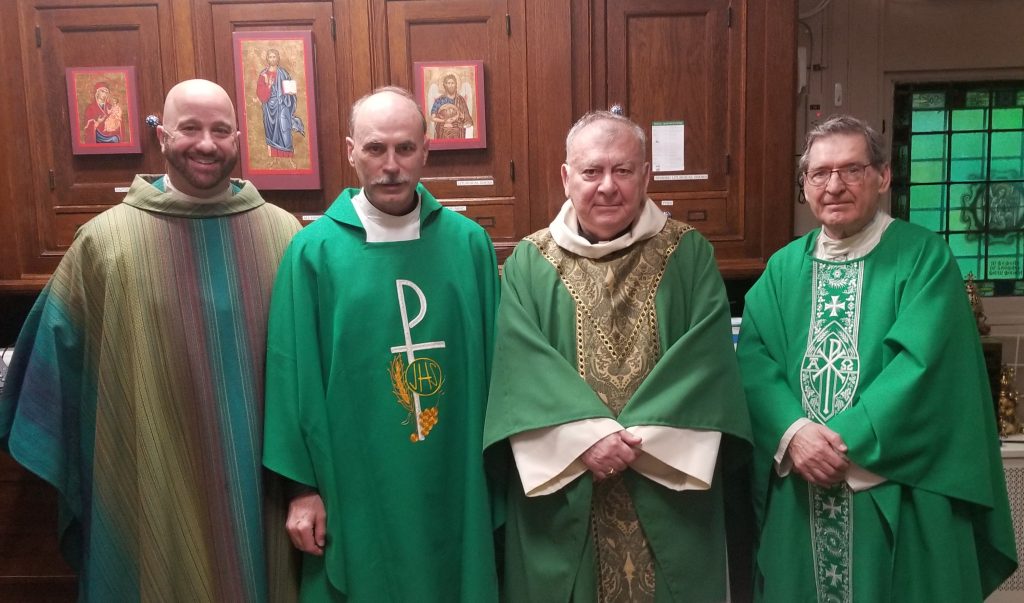 Fr. Michael Davitti SX celebrates the Golden Jubilee of his ordination.
Father Michael Davitti SX (second from the right) celebrated the Golden Jubilee of his ordination on September 27th. He is pictured with Rev. ST Sutton, pastor of St. Joseph Church in Newton NJ, Fr. Mark Marangone SX, and Fr. Frank Grappoli SX who celebrated the 57th Anniversary of his ordination on September 29th.
Access Fr. Michael's Homily here.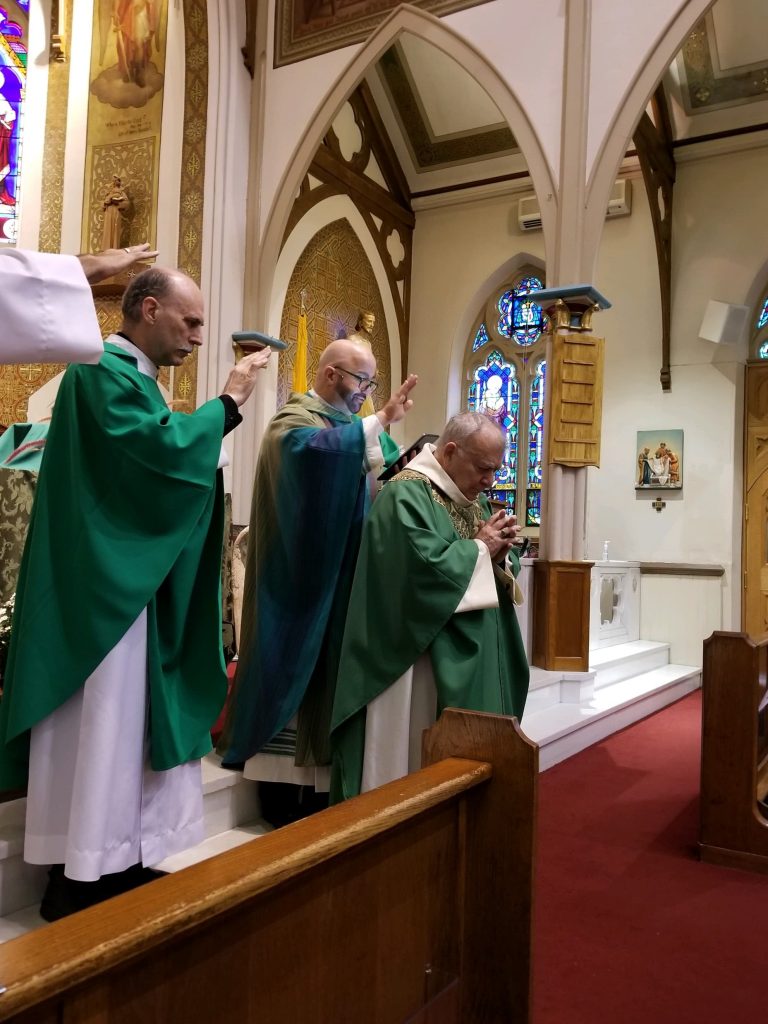 ---
Fr. Mark's Messages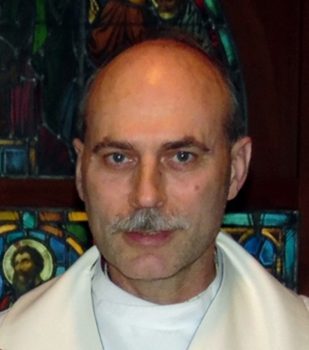 Christmas Message "Love Among the Ruins"
God came into human existence and among human existence with all its limitations and flaws. Christmas is a potent sign of God's desire to embrace our brokenness. After all, Jesus is the Word made flesh who dwelt among us. Among us, not some paid actors in a play; among us, untrustworthy shepherds, people who didn't belong, like the Magi, the different, the oddball, and poor peasant parents… Read more.
Food for thought…
A sick man turned to his doctor as he was preparing to leave the examination room and said, "Doctor, I am afraid to die. Tell me what lies on the other side." Very quietly, the doctor said, "I don't know…"
"You don't know? You're a Christian man, and don't know what's on the other side?" Read more.
"We Wanted to be Like Them"
A striking story tells about one remote area in western Sudan. Expatriate missionaries, especially priests, Brothers and Sisters, had labored there for many years with few visible results. Then expatriate lay missionaries — married and single — came to that area and soon many Sudanese people become Catholics. A Sudanese elder explained: "When we saw the priests and Sisters living separately and alone we didn't want to be like them. But when we saw Catholic families — men, women and children — living happily together, we wanted to be like them." In our family-oriented African society, married missionary couples with children have a powerful and unique witness and credibility. Read more.
Humble Enough…
Some time ago in Florida, the St. Petersburg Times carried an interesting story about Don Shula, the coach of the Miami Dolphins.
He was vacationing with his family in a small town in northern Maine. One afternoon it was raining. So Shula, his wife, and his five children decided to attend a matinee movie in the town's only theater.
When they arrived, the house lights were still on in the theater. There were only six other people present. When Shula and his family walked in, all six people stood up and applauded. He waved and smiled… Read more.
"…In Our Midst"
Dear Mission Friends,
You may have heard the story before. There was a famous monastery which had fallen on very hard times. Its many buildings used to be filled with young monks. Now a handful of old monks shuffled through the cloisters and praised their God with heavy hearts. On the edge of the monastery woods, an old rabbi had built a little hut. Now and then he would spend a little time there praying and fasting. For as long as he was there the monks would feel sustained by his prayerful presence. One day the abbot decided to visit the rabbi and to open his heart to him. So that's what he did one day after the celebration of the Eucharist. The rabbi welcomed the abbot with arms outstretched. It was as though he had been waiting for this moment for some time. They sat for a while in silence in the presence of the book of Scriptures. Then the rabbi said: "You and your brothers are serving God with heavy hearts. You have come to ask a teaching of me. I will give you a teaching, but you can only repeat it once. After that, no one must ever say it aloud again." Read more of Fr. Mark's Message
Something Special
One Friday, sensing a high degree of anxiety in the classroom, the high school teacher said, "Look, put away your books. Everybody take out a piece of paper and list each of the other students' names on that paper, and write something nice about each one."
That's what the students did for the entire class. She collected the papers, she went home, and over the weekend she listed the names of all the students and all the nice things the people had to say about them. When she went in on Monday morning, she gave the papers out to each one. And immediately the tenor of the class changed. She even overheard one of the pupils whisper to another that "I never knew that anybody thought anything nice about me." And so they were able to progress… Read the full message
---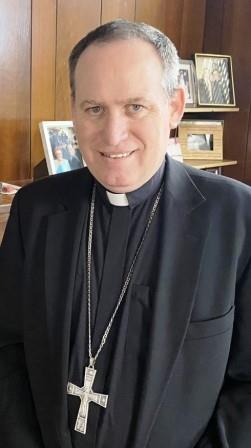 Welcome, Bishop Kevin Sweeney to the Diocese of Paterson!
The Xaverian Missionaries bid you our sincerest welcome to Paterson, NJ, as the new shepherd of the Diocese. We acknowledge and greatly appreciate your commitment to the mission "ad gentes" of the Church, the development of vocations, devotion to pastoral care of the clergy and service to the people. We share your passion and offer our service. We are grateful for opportunities to work together sustaining the People of God in the service of the Reign of God and reaching out beyond ourselves and our borders to sisters and brothers in need. Through the intercession of our founder, St. Guido Maria Conforti, please be assured of our prayers for your success and our continued support of the clergy and people of the Diocese of Paterson.
See Bishop Sweeney's installation mass here.
---
Fr. Mark's 2020 Easter Message
With Saint Paul we cry out: "Who will separate us from the love of Christ? Will anguish, or persecution, or famine, or the sword?… I am convinced that neither death nor… anything else will be able to separate us from the love of God in Christ Jesus our Lord" (Romans 8:35-39).
Jesus preaches his greatest sermon on the cross: the sermon of love to the end. Jesus, while nailed to a cross, filled with an amazing calmness and an inexplicable love, way before anyone asked for it, intercedes with the Father for the forgiveness of his torturers… and all of humanity with them. "Father, forgive them, for they do not know what they do." (Luke 23:34)
He preferred to die for the guilty, for us sinners, which required of him even more strength, courage, and love.
Right up to his final hours on earth, Jesus preaches forgiveness by his life.
And even following his Resurrection, his first act is to commission his disciples, you and me today, to go to the whole world, to reach out to all of humanity, to be his witnesses and… to forgive: "Receive the Holy Spirit. If you forgive the sins of any, they are forgiven; if you retain the sins of any, they are retained" (John 20:22-23).
The Lord Jesus, friend of sinners, calls you and me and all of us from sin to fidelity, to discipleship, to ministry, to mission… to be instruments of peace, compassion, and love, to forgive one another as God does, "with a caress", using Pope Francis' expression.

Where are we called to forgive others with the same "caress" today, tomorrow, and every day?

These weeks of "lock down" offer us a time to pause, look at ourselves, at how we relate to our Creator, to our sisters and brothers, and to creation. Maybe, as a human family we need to rethink our priorities…
Easter and resurrection bring new hope and invite us to choose new life, justice, harmony, unity, respect, compassion, and, definitely a much better sharing of the world resources. There is plenty for everyone.

With humility and good will to serve one another, we can start anew and together find a common path toward making the world a better place for everyone and "of humanity one family."

Our hearts go out to all our sisters and brothers who have lost loved ones due to the pandemic…
Count on our prayers and remembrance at our daily Mass.

Among tears… With deep gratitude, we wish you and your loved ones a grace-filled Easter.
Fr. Mark and the Xaverian Missionaries
Fr. Mark's 2020 Lenten Message
A Short List for Lent
As we begin a new Lenten Season of special graces and blessings, consider the following. (Notes from a homily by Fr. William J. Bausch)
PRACTICE BEING GRATEFUL A man was suffering from an abdominal ailment and was in pain. That particular night was unbearable. So he called the nurse for assistance. She came quickly, washed his face with a cool towel, and gave him a pain-killer. After a short while, the medication took effect and he relaxed. As the nurse was about to leave, the patient said, "I really appreciate you doing this for me." She replied simply, "No need for thanks. I'm only doing my job." But he answered, "Ma'am, it's nobody's job to take care of me. So when you do this for me, I need to say thanks."
To grow in faith, hope, and love, one must feel the need to say thanks to many people and often: to God, to family, and to friends. Try to develop an attitude of gratitude.
BLESS MORE
Instead of bullying, character-assassinating, using insulting or vulgar words or pornographic discourse, BLESS, do not curse, ENCOURAGE, do not destroy. Blessing is generative. A sincere word of praise, affirmation, approval is like sunshine to a flower. Blessing makes people grow. It confirms their goodness and self-worth. During the 40 days of Lent, why not sending a note, giving a call, sharing a word with a person who has meant something to you… if not each day, a couple of times a week… at least.
SAY YES TO TRANSFORM AND NO TO TRANSMIT. In other words, do not give bad things back in kind. Any evil that we transmit but do not transform will simply be recycled and it will go on and on. JESUS is our model here, too. He taught to love your enemies and pray for those who persecute you. He took away our sins like a filter purifies water… "Jesus takes in hatred, holds it, transforms it and gives back love. He takes in curses, holds them, transforms them and gives back blessings. He takes in fear, holds it, transforms it and gives back freedom. He takes in jealousy, holds it, transforms it and gives back affirmation." Do not return evil for evil, but a blessing, instead.
THANK.
BLESS.
TRANSFORM.
Make it a grace-filled Lent 2020!
That's how we "make of the world one family" in the image and likeness of God.
With deep gratitude for all your generous support and commitment,
Fr. Mark & the Xaverian Missionaries
Looking for Jesus
A nine-year old boy named Joshua decided to skip church one Sunday. His mother often told him that if he skipped church, he would miss a chance to see Jesus. But Joshua had been going to church all his life, and he had never seen Jesus.
Joshua's walk took him across the railroad tracks to a part of town where he had never been. He noticed that the houses were much bigger and fancier than the houses in the poor neighborhood where he lived.
A few blocks later, Joshua found himself in front of the biggest, most beautiful church he had ever seen. He didn't see any people from his side of the tracks going into this church.
Joshua thought to himself, "This must be the church where Jesus goes. It's so big and nice." As he walked closer, he heard beautiful music coming from inside. He remembered how his mother always talked about angels in heaven singing to Jesus. Now he was convinced that this must definitely be the place where Jesus was.
Joshua walked in. The beautiful stained glass windows, lit up by the sunshine, stunned him.
Joshua took a seat. He scanned the crowd so he could spot Jesus. But as he was doing that, an usher tapped him on the shoulder and asked Joshua to go with him to the lobby. Right away the usher knew that little Joshua came from the poor side of town. "Where are your parents?" asked the usher. "They are probably at church right now" replied Joshua. "Well, don't you think you should be with them?" the usher asked. Joshua explained how he saw this beautiful church and thought that Jesus must be here. "Well," replied the usher, "you really can't stay here. Go to your own church in your own neighborhood." With that, the usher escorted Joshua out the door. "You just don't want me to see Jesus!" cried Joshua. The little boy, with tears running down his face, shouted, "God, it isn't fair! All I wanted to do was to see Jesus, and they wouldn't even let me in!"
Joshua shuffled, staring at the sidewalk through his tears. Suddenly, he heard footsteps behind him and felt a hand on his shoulder. He turned around and, to his amazement, there was Jesus! The Lord smiled at Joshua, gave him a big hug, and said, "Don't be too upset, son. They wouldn't let me in there either."
Each of us, no matter what are our gifts and talents and passions, can certainly give a smile or be friendly to those who come into our community. How we treat the newcomer is what they will imagine our whole community is like. How incredibly powerful that is!
Have we ever considered that Jesus may have the face of the stranger, the refugee, and the poor that come my way.
How do I look at them? How do I treat them? What if I were in their shoes? Was I ever treated like Joshua in the story? No matter what, Jesus keeps calling you and me to treat others as we would have them treat us… (See Mt 7:12) That's how we "make of the world one family." That's an excellent way to make our Lent more meaningful and experience the resurrection and new life with the Lord at Easter.
Fr. Mark Marangone, s.x.
---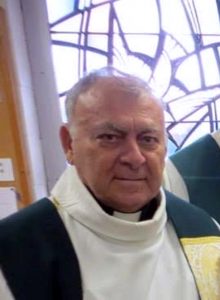 Lent 2020 with Fr. Michael
Fr. Michael Davitti SX will be giving presentations on "Revisiting the Liturgy" on the five Tuesdays of Lent at Our Lady of Consolation Parish in Wayne, NJ. Please call the Provincial House for more information.
---
Celebrate Fr. Michael's 50th Anniversary as a priest with him in Italy
Fr. Michael Davitti SX will host a trip to his hometown and other sites in Tuscany in the fall to celebrate his 50th Anniversary as a priest. Participants will take part in special liturgies and interfaith experiences, and enjoy cultural and culinary events. Email here for more information.
---
Fr. Michael Davitti SX in Italy 2019
---
---
Cosuma in Mexico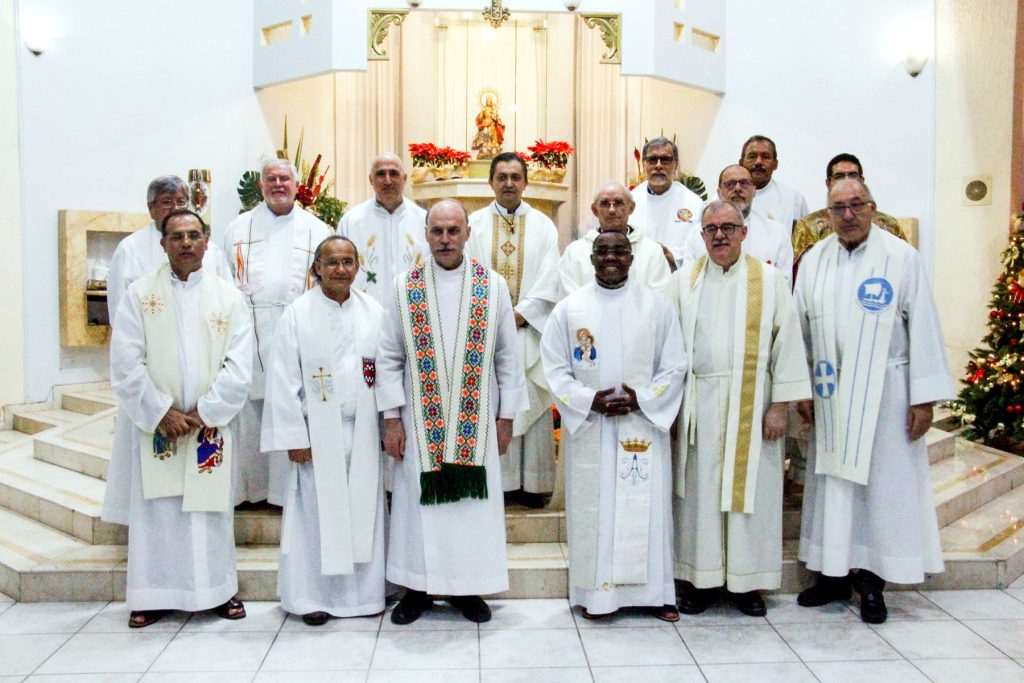 From January 6 – 13 – 2019, the COSUMA Encounter of the Americas took place at the Regional House, Zapopan, Mexico. The Superior General Fr. Fernando Garcia Rodriguez, the Vicar General Fr. Mario Mula and Councilor Fr. Javier Peguero Perez met with the Regionals and Vice-Regionals of Brazil North, Brazil South, Colombia, Mexico, and USA Regions.
Fr. Mark writes:
We started our COSUMA meeting in Zapopan (near Guadalajara), Mexico, with two representatives from each of our countries in the Americas to plan our common journey ahead regarding our Mission today and tomorrow. We come from Brazil, Colombia, Mexico, the USA, and from Rome our Superior General and two of his Councillors. In the picture, all 13 of us were present and concelebrated Mass at the nearby parish "Nuestra Señora de Altamira" Parish, Zapopan on the feast of the Epiphany, Jan. 6, together with the pastor, in the center on my right one step up.
---
General Direction Counselors Visit the US
Frs. Eugenio Pulcini and Fabien Kalehezo, SX, members of our General Council in Rome were with us in the USA from June 4 through the 17, 2018. It's the first time they have come this way since their election (for Fr. Fabien, from the Democratic Republic of Congo, who served in the Philippines) and re-election (for Fr. Eugenio, from Italy, who served in Mexico and the Philippines) in August 2017 during our XVII General Chapter (Assembly).
They spent a few days in each of our Communities where they met with confreres and staff members and joined our Provincial Council Meeting in Franklin and even found some time for sightseeing. We appreciate the time they took with us and their interest in our activities, outreach and ministries. See a slide show of their visit here.
---
Roman Holiday…
Fr. Frank Grappoli SX returned from Italy with an "Easter Basket" of images and memories. Enjoy! These two photos are of a young Fr. Frank in the 1970's.
---
The Berceto Banquet
Fr. Mark Marangone SX attended the 55th and sadly final Bercetese celebration of its ties to the Xaverian Missionaries and St. Guido M. Conforti. See more pictures at www.bergotto. com. The Xaverian Missionaries express their never-ending gratitude to the Berceto Foundation for over half a century of service!
---
Xaverian

Missionaries US Province Statement on Islamophobia and the Executive Order on Refugees
Jesus replied, "…you shall love the Lord your God with all your heart and with all your soul and with all your mind and with all your strength.' The second is this: 'Love your neighbor as yourself.' No other commandment is greater than these" (Mark 12:30-31).
The United States Province of the Xaverian Missionaries adds its voice to the chorus of religious and secular organizations that object to the executive orders banning refugees and immigrants from Muslim countries to this country and condemns the Islamophobia gripping this nation.
Jesus himself referred to loving God and one's neighbor as the greatest of the commandments. They are the core of Christian teaching. Loving one's neighbor is also the core of the Golden Rule, which is found in every religion and culture on this planet. "So whatever you wish that others would do to you, do also to them, for this is the Law and the Prophets" (Matthew 7:12).
By banning refugees and immigrants from predominantly Muslim countries and inciting Islamophobia, America has violated the Golden Rule itself. We should be caring for those who are fleeing from conflict and strife, not turning them away. We should be welcoming those who wish become part of the mosaic that is our country, not stigmatizing them. We should be contributing to a world of justice, peace, and compassion, not to a climate of fear and hatred.
This country was founded on the principles of tolerance and acceptance. It grew and prospered due in no small part to the contributions of immigrants from around the world. Closing our doors and building walls will only result in diminishing not only our economic and commercial prosperity, but more importantly, our moral and ethical principles and aspirations. In short: America risks losing its own soul.
Xaverian Missionaries serve in twenty countries around the world. We have seen first-hand the hardship and devastation caused by sectarianism, economic deprivation, conflict, and war. In the past America seemed to be a beacon of light to peoples struggling to achieve "liberty and justice for all." Now the light is dimmed and is in danger of being extinguished.
We strongly urge the new Administration to consider the consequences of its actions. We hope that all people will once again be welcomed into this country, especially those who are in most need. We hope that those who react out of fear will educate themselves on the true teachings of Islam, and not be influenced by lies and propaganda that turn people against each other for political gains. As a religious community, we remember the words of Jesus: "I was a stranger and you welcomed me…. What you do for the least of these, you do for me" (Matthew 25:31-46).
Fr. Mark Marangone SX & the Xaverian Missionaries Click here for the United States Catholic Conference of Bishops Statement and here for the statement issued by Cardinal Tobin if Newark Archdiocese.
---
COMMON GROUND: Conference of Dialogue Between Atheists and Religious Believers
The Xaverian Missionaries and the American Humanist Association organized a special conference of dialogue which brought together religious believers, secular humanists, and nonbelievers in conversation to gain perspective on each other's ways of seeing the world while embracing commonalities in our human experience that unite us for social change. We called it COMMON GROUND 2015.
Through four panel sessions and networking participants joined academics and leaders from national and local organizations to discuss views on finding meaning in life, ethics and values, and how to collaborate for social action.
You can learn more about the day on the website, the Facebook page and on YouTube.
---
We believe that there is a lot of common ground between atheists, humanists, and religious believers on ethics, community, and hope.
Check out and share our Common Group Social Networks: Facebook page and CG Twitter Feed
---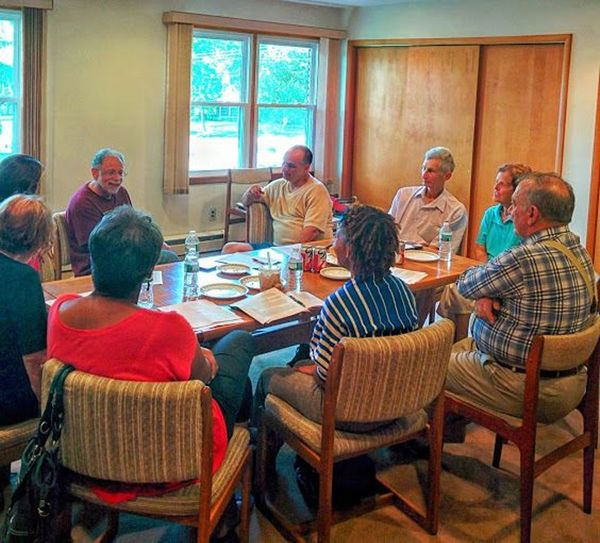 Common Ground "Meetup" at the Provincial House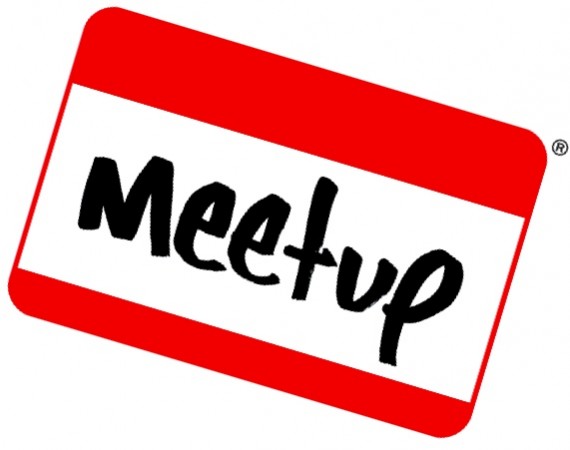 Conversations among Atheists, Humanists and Religious Believers take place on the last Sunday of each month at 3 p.m. at 12 Helene Court, Wayne, NJ. Topics center on the values and ethics that we share. Click here for more information and to join the group.