Provincial House, Wayne, New Jersey
Provincial House, Wayne, New Jersey
Xaverian Missionaries – Provincial House
12 Helene Court – Wayne, NJ 07470
973-942-2975
wayne@xaverianmissionaries.org
missionmedia@xaverianmissionaries.org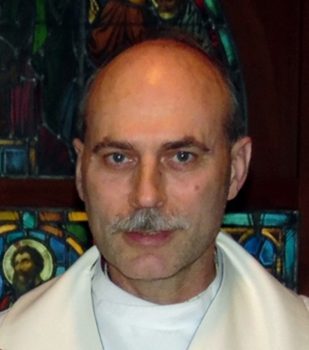 Fr. Mark's February Message
"Be Leaven Today"
Even though we may not be bakers, we all know that to make bread you need not only flour but yeast as well. What the yeast does it produces a change in the flour. The enzymes do something positive which allows us to enjoy the bread.
As disciples of Jesus, Missionary of the Father, we are called to also be like the enzymes of the yeast, which are very much alive, and produce in society today, something positive.
At the time of the Reformation, Fr. Francis De Sales, known for his calm, was sent to a region of Switzerland, a harsh land for such a kind preacher. Most of the people had switched to the new Protestant Church. Besides being fanatics, they were also rude with him.
Since he had gotten no results in the cities, he decided to try in the small towns in the countryside. Not much luck there either. Many would shut the door in his face. What would he do? He would slip under the door a flyer with the main truths of our Catholic faith. On one occasion, nobody welcomed him for the night. It was very cold with snow on the ground. He decided to sleep by the open oven of the bakery in town… still warm after the last use for the day. His perseverance paid off. He started seeing the fruits of his labor. Conversions back to the Catholic faith appeared here and there like mushrooms… Francis De Sales was no baker but acted as leaven which transformed people around him.
Fr. Mark's New Year's Message
Dear Mission Friends,
Bishop Robert F. Morneau of Green Bay, WI, in a small book, Notes of Thanksgiving, writes: "The South African writer Alan Stewart Paton (1903-88) helped to break down an evil in that land – apartheid… Because of St. Francis of Assisi's influence in his life, Paton wrote 'Instrument of Thy Peace', a commentary on Francis' famous prayer. In it he writes: 'I have often been able to be the bringer of joy to others; this is a country in which small things, small gifts, small recognitions, small identifications, can bring disproportionate joy.'The world is filled with sadness and misery -poverty, human rights violations, wars and riots, exploitation and manipulation of the human person. Our challenge is to bring others joy through the works of justice and mercy. At times this means changing political systems; at other times, doing those small, good deeds that bring 'disproportionate joy.'"
St. Francis of Assisi was serious when he prayed, 'Lord, make me an instrument of Your peace. Where there is hatred, let me sow love; where there is injury, pardon; where there is doubt, faith; where there is despair, hope; where there is darkness, light; where there is sadness, joy.' If we become agents of the Holy Spirit's joy, we will bring people to life and help them on their long journey. One dimension of our baptismal call is precisely this: to be a bringer of joy.
C.S. Lewis entitled his autobiography Surprised by Joy. Wouldn't it be great, were our biography to be written, that the first paragraph might begin: "John, Jane,…surprised many people in being a bringer of joy!"? The New Year 2019 could be that special year when we work harder at it to bring joy to one another and to be a blessing to everyone we meet. God's choicest blessings and much peace!
The New Year 2019 could be that special year when we work harder at it to bring joy to one another and to be a blessing to everyone we meet.
God's choicest blessings and much peace,
With deep gratitude,
Fr. Mark and the Xaverian Missionaries
---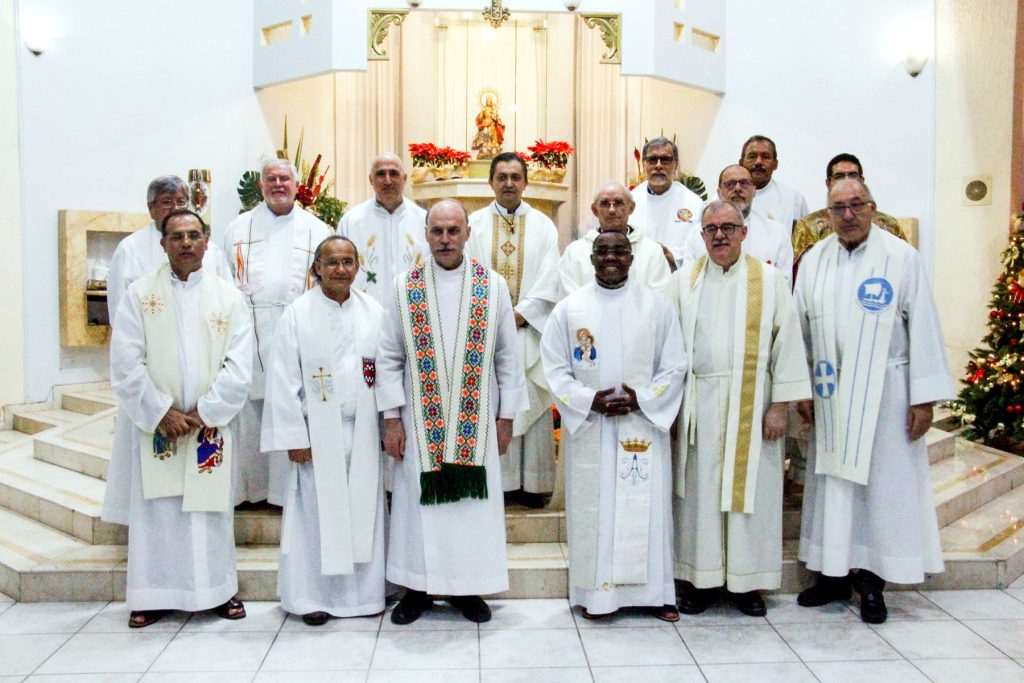 Cosuma in Mexico
From January 6 – 13 – 2019, the COSUMA Encounter of the Americas took place at the Regional House, Zapopan, Mexico. The Superior General Fr. Fernando Garcia Rodriguez, the Vicar General Fr. Mario Mula and Councilor Fr. Javier Peguero Perez met with the Regionals and Vice-Regionals of Brazil North, Brazil South, Colombia, Mexico, and USA Regions.
Fr. Mark writes:
We started our COSUMA meeting in Zapopan (near Guadalajara), Mexico, with two representatives from each of our countries in the Americas to plan our common journey ahead regarding our Mission today and tomorrow. We come from Brazil, Colombia, Mexico, the USA, and from Rome our Superior General and two of his Councillors. In the picture, all 13 of us were present and concelebrated Mass at the nearby parish "Nuestra Señora de Altamira" Parish, Zapopan on the feast of the Epiphany, Jan. 6, together with the pastor, in the center on my right one step up.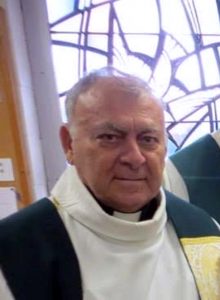 Retreat with Fr. Michael
Fr. Michael Davitti s.x. will be giving a retreat on Dialogue between Christianity and Buddhism, comparing the teachings of Meister Eckhart and the Buddha, on February 2, 2019 in Elizabeth NJ. Please call the Provincial House for more information.
---
General Direction Counselors Visit the US
Frs. Eugenio Pulcini and Fabien Kalehezo, SX, members of our General Council in Rome were with us in the USA from June 4 through the 17, 2018. It's the first time they have come this way since their election (for Fr. Fabien, from the Democratic Republic of Congo, who served in the Philippines) and re-election (for Fr. Eugenio, from Italy, who served in Mexico and the Philippines) in August 2017 during our XVII General Chapter (Assembly).
They spent a few days in each of our Communities where they met with confreres and staff members and joined our Provincial Council Meeting in Franklin and even found some time for sightseeing. We appreciate the time they took with us and their interest in our activities, outreach and ministries. See a slide show of their visit here.
---
Roman Holiday…
Fr. Frank Grappoli SX returned from Italy with an "Easter Basket" of images and memories. Enjoy! These two photos are of a young Fr. Frank in the 1970's.
---
The Berceto Banquet
Fr. Mark Marangone SX attended the 55th and sadly final Bercetese celebration of its ties to the Xaverian Missionaries and St. Guido M. Conforti. See more pictures at www.bergotto. com. The Xaverian Missionaries express their never-ending gratitude to the Berceto Foundation for over half a century of service!
---
Xaverian

Missionaries US Province Statement on Islamophobia and the Executive Order on Refugees
Jesus replied, "…you shall love the Lord your God with all your heart and with all your soul and with all your mind and with all your strength.' The second is this: 'Love your neighbor as yourself.' No other commandment is greater than these" (Mark 12:30-31).
The United States Province of the Xaverian Missionaries adds its voice to the chorus of religious and secular organizations that object to the executive orders banning refugees and immigrants from Muslim countries to this country and condemns the Islamophobia gripping this nation.
Jesus himself referred to loving God and one's neighbor as the greatest of the commandments. They are the core of Christian teaching. Loving one's neighbor is also the core of the Golden Rule, which is found in every religion and culture on this planet. "So whatever you wish that others would do to you, do also to them, for this is the Law and the Prophets" (Matthew 7:12).
By banning refugees and immigrants from predominantly Muslim countries and inciting Islamophobia, America has violated the Golden Rule itself. We should be caring for those who are fleeing from conflict and strife, not turning them away. We should be welcoming those who wish become part of the mosaic that is our country, not stigmatizing them. We should be contributing to a world of justice, peace, and compassion, not to a climate of fear and hatred.
This country was founded on the principles of tolerance and acceptance. It grew and prospered due in no small part to the contributions of immigrants from around the world. Closing our doors and building walls will only result in diminishing not only our economic and commercial prosperity, but more importantly, our moral and ethical principles and aspirations. In short: America risks losing its own soul.
Xaverian Missionaries serve in twenty countries around the world. We have seen first-hand the hardship and devastation caused by sectarianism, economic deprivation, conflict, and war. In the past America seemed to be a beacon of light to peoples struggling to achieve "liberty and justice for all." Now the light is dimmed and is in danger of being extinguished.
We strongly urge the new Administration to consider the consequences of its actions. We hope that all people will once again be welcomed into this country, especially those who are in most need. We hope that those who react out of fear will educate themselves on the true teachings of Islam, and not be influenced by lies and propaganda that turn people against each other for political gains. As a religious community, we remember the words of Jesus: "I was a stranger and you welcomed me…. What you do for the least of these, you do for me" (Matthew 25:31-46).
Fr. Mark Marangone SX & the Xaverian Missionaries Click here for the United States Catholic Conference of Bishops Statement and here for the statement issued by Cardinal Tobin if Newark Archdiocese.
---
COMMON GROUND: Conference of Dialogue Between Atheists and Religious Believers
The Xaverian Missionaries and the American Humanist Association organized a special conference of dialogue which brought together religious believers, secular humanists, and nonbelievers in conversation to gain perspective on each other's ways of seeing the world while embracing commonalities in our human experience that unite us for social change. We called it COMMON GROUND 2015.
Through four panel sessions and networking participants joined academics and leaders from national and local organizations to discuss views on finding meaning in life, ethics and values, and how to collaborate for social action.
You can learn more about the day on the website, the Facebook page and on YouTube.
---
We believe that there is a lot of common ground between atheists, humanists, and religious believers on ethics, community, and hope.
Our next "Atheist/Theist Meetup" will be on Sunday, November 25, 2018, at 3:00 p.m. at 12 Helene Court, Wayne NJ. Join us here.
Check out and share our Common Group Social Networks: Facebook page and CG Twitter Feed